If you cannot run with us, drop Mike an email to let him know so we can plan for water and food (so we don't create a lot of waste)
---
---
Drop Bags-Our race does allow Drop bags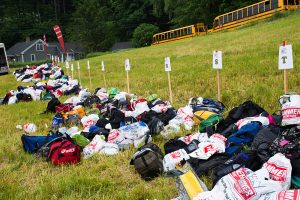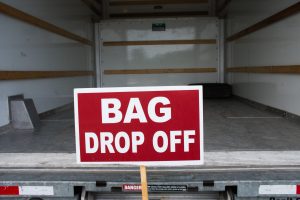 Bags can be dropped off at the U-Haul Truck near the race Bib pick-up Tent. You may drop bags off from 6-7:45 a.m. The truck leaves promptly at 7:45 a.m. to transport the bags to the finish line area.
Plan on bringing your own bags with labels already on them.
Clearly mark them with your LAST NAME and First Name so our volunteers can easily sort them.
Keep them SMALL and LIGHT please don't make our volunteers lift heavy bags!

A small backpack or gear bag, on the order of 9"x 9" x 16" is appropriate if shoes, a top garment and bottle are included.
Weight not to exceed 10 lbs per bag.
Your bag must be soft-sided (no plastic storage boxes please)
Make sure it's securely closed
In case of bad weather, you'll want to make sure the bag is waterproof.
---
Pop Quiz
What happens at these times?

1. Sunday 5:45 AM?

2. Sunday 6:30 a.m.?

3. Sunday 7:00 a.m.?

4. Sunday 6:00-8:00 a.m.?

5. Sunday 5:30-7:15 AM?

6. Sunday 8:15 a.m.?

7. Sunday 8-10 a.m.?

8. Sunday 11:15 a.m.?
See the answers below!
---
Spectator Parking
Best Viewing of CBHM Runners
If you want your friends/family to see you at the finish line-they MUST BE parked before 10 a.m.. The lot and road will be closed at this time.
The two best places to watch runners are the Village of Woodstock and at the Finish Line.

Spectator parking is very convenient to the Finish Line at the Polo Field.
There is NO spectator viewing at the Taftsville Bridge.
Remember—Finish Line Viewing-If you want to see  runners at the finish line, you MUST be parked in the designated lot BEFORE 10 a.m. Volunteers will direct you to parking.
And speaking of VOLUNTEERS
Be sure to say "Thank You" all our AWESOME volunteers along our race course.
There are over 400 volunteers that help make this event happen-we couldn't do it without them.
Join Our Volunteers
Know someone who might like to volunteer with our race. Ask them to sign up today VOLUNTEER LINK
---
Recycle Your Old, Gently Used Sneakers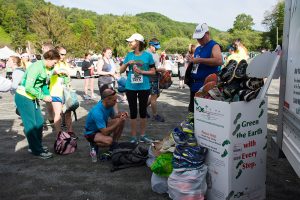 The Upper  Valley Running Club is hosting a recycled sneaker collection at our race start.
Bring your clean, gently used sneakers and drop them into their collection boxes.
---
Pop Quiz Answers:
1. 5:45 AM-First Bus Leaves Quechee Village Lot
2. 6:30 AM-Last Chance to Park in Runner Lot
3. 7 AM-Runner Lot CLOSED, Last Bus Leaves at promptly 7:00 a.m.
4. 6-8 AM Bib Pick Up at Suicide Six Ski Area (Bring your photo ID or cell phone photo of your ID to pick up your Bib.)
5.  5:30-7:15 AM-Car Drop Off At Suicide Six Ski Area closes at 7:15 AM-Last Drop off at the Start (Suicide Six Ski Area in Pomfret VT)
6. 8:15 a.m.-Race Start
7.  8-10 AM-Spectator parking at the Finish Line-The Spectator and Volunteer Parking lots on Dewey Mills RD open at 8 a.m. and close promptly at 10 a.m.
8. 11:15 a.m. Course Support closes at 3 Hour Mark–You can still cross the finish line, but police and volunteer assistance and hydration stops will be closed along the course.
Keep training and we'll see you in 5 Weeks!