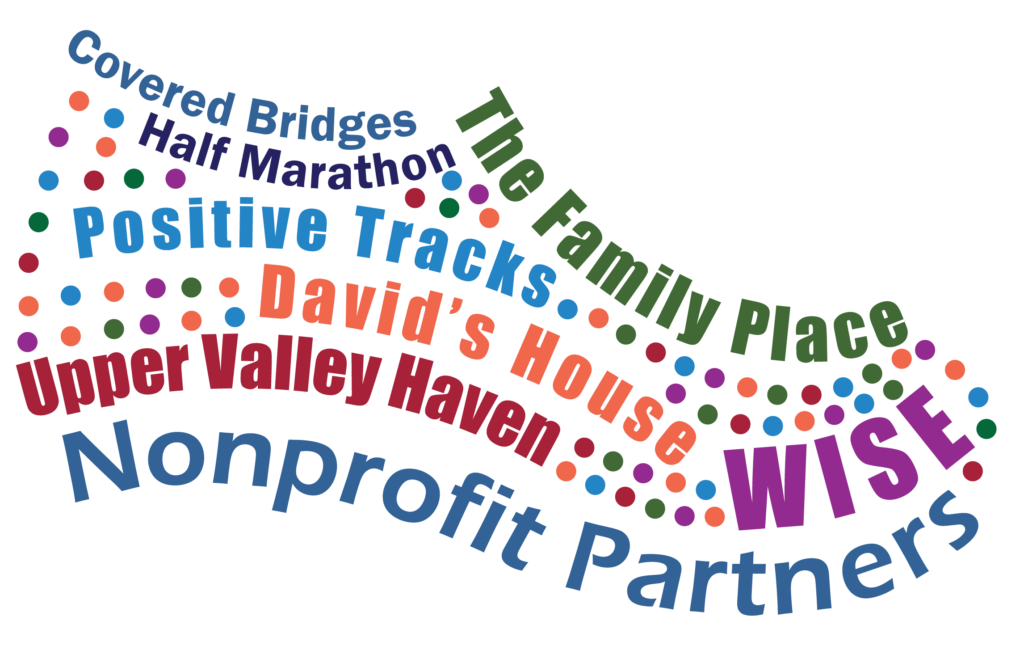 Non-Profit Partners-Together to the Finish Line
Early registration for Covered Bridges Half Marathon 2020 with our Non-Profit Partners opens on November 18 at 7 a.m.!  If you commit to raise a minimum of $500 for one of our Non-Profit Partners, you can register early for our race. Avoid the registration rush, raise money for a great group and feel good when you run on June 7, 2020.
2020 NPP registration opens November 18 at 7 a.m.
Thank You for Your Support.
Our mission is to provide a home-away-from-home and
support for families with children receiving treatment through the Children's Hospital at Dartmouth-Hitchcock Medical Center.
David's House is the dream of a little boy named David Cyr who passed away at age five after a three-and-a-half-year struggle against acute lymphatic leukemia. Built so that families can remain together when it is
most crucial. We provide a warm, caring, fully stocked "home" for families. Guests may come for a day or many months depending on their child's needs at CHaD. We operate 24 hours a day, 365 days a year to help families stay together during this difficult time. All at no charge to them.
Members of Team David's House are asked to commit to a $500 fundraising goal.
Team members will enjoy:
Access to the Non-profit team area
Pre- and post-race food and hydration
Team photo
Access to personalized fundraising pages
Transportation of personal items to the finish line
Fundraising tips leading up to the race
Unique race swag
David's House: To request a spot on the David's House team, please email Jaye Olmstead at: Jaye.Olmstead@davids-house.org or visit their website for additional information: https://davids-house.org/.
Only a few bibs left
Our Mission: The Family Place delivers comprehensive programs designed to strengthen positive relationships, teach essential skills and promote enduring healthy growth for families with young children in the Upper Valley and surrounding communities.
The Family Place is a private, non-profit organization founded in 1985 in White River Junction, Vermont, by a group of community members concerned about the well-being of young children. Shortly thereafter, we were designated by the State of Vermont to be the Parent Child Center for the area.
Last year, The Family Place reached over 1,300 children in the Upper Valley region of New Hampshire and Vermont.
We offer programs for all families with young children, with an emphasis on intensive, holistic support for those most in need. Our programs address critical quality-of-life issues, including child safety, financial stability, healthy development, mental health, literacy and education, food and housing security. From the beginning, we have maintained a strong focus on the most vulnerable young children; we are the primary provider of prevention and intervention programs for children birth to three.
Team members commit to raising $500 and The Family Place will pay the $95 registration fee.
In recognition of your hard work, our runners will enjoy these benefits:
A gathering tent with food and water at the race's start and finish
Transportation of personal items at the race's start and finish
Personal fundraising webpage and fundraising coaching and guidance
Regular encouragement and support before the race
Team T-shirt from The Family Place
Swag Bag of surprise goodies
The Family Place: To request a spot on The Family Place team, please email Hali Issente at halii@the-family-place.org or visit their website for additional information: http://www.familyplacevt.org/.
Register to run:  http://www.familyplacevt.org/run-for-the-family-place/
Our mission is simple – We teach youth how to create change through the power of sport. Youth, ages 12 – 25, are playing soccer to combat climate change; spinning to promote social justice; shooting hoops to end hunger. We call it – Sweating For Good.
Young people are inheriting a society with major challenges, from climate change, to poverty, to racism. We believe that something as simple as a kickball tournament can ignite critical conversation, mobilize peer groups, and foster the basic framework of youth activism and social change.
If kids can dream it, Positive Tracks can help them make it happen: for any cause, from any corner of the country. Will you stand behind them?
Help us grow the Positive Tracks movement by joining Team Positive Tracks! Commit to raising $500*, and in return, we'll shower you with:
Fuel and hydration at the start & finish

Transportation of personal items from start to finish

Post-race massage


Runner support & cheer-leading 

Positive Tracks tech shirt, training shirt & other TBD swag

A customizable fundraising page

Fundraising assistance & guidance from Positive Tracks Staff

A monthly team newsletter with motivation, logistics & training support

An epic Spotify running playlist

Eternal gratitude

Good karma
*A $95 registration fee is required when you sign up. This counts toward your $500 fundraising minimum.
REGISTER TO RUN FOR TEAM POSITIVE TRACKS:  https://charity.gofundme.com/o/en/campaign/team-positive-tracks-2020
Questions? Please email Emily at egardner@positivetracks.org or visit their website for additional information: www.positivetracks.org
Our Mission: The Upper Valley Haven is a non-profit, private organization that serves people struggling with poverty by providing food, shelter, education, service coordination, and other support.
Since 1980 the Upper Valley Haven has provided temporary shelter and educational programming for homeless families and adults as well as food and clothing to anyone in need.
The Haven has fostered independence through our Shelter Advocacy, Aftercare, Outreach and Education Programs. The Haven is open 365 days per year and never charges for any of its services. We serve over 14,500 people per year.
Commit to raise $500* and enjoy the following benefits:
A personal fundraising page and guidance from the Haven

Haven swag bag with necessities and goodies

Toilets at the start of the race for charity team runners only

A pre- and post-race gathering tent for runners and their friends and family with healthy snacks and beverages

Your own Haven CBHM team t-shirt

Transportation of personal items from the start of the race to the finish

Lucky bracelets made by children from the Haven's After-School Program
*The $95 registration fee is due when you register to be on the Haven's Team ($95 counts towards the $500 goal)
Upper Valley Haven: To request a spot on the Haven team, please email awood@uppervalleyhaven.org or visit their website for additional information: https://uppervalleyhaven.org/events/covered-bridges/
Learn more about the Haven at www.uppervalleyhaven.org.

WISE
Only 13 bibs left
Our Mission: WISE leads the Upper Valley to end gender-based violence through survivor-centered advocacy, prevention, education and mobilization for social change.
For almost 50 years, WISE has been the sole provider of crisis advocacy and support for victims of gender-based violence within 21 communities of the Upper Connecticut River Valley of New Hampshire and Vermont. WISE is a non-profit organization dedicated to supporting people and communities impacted by domestic violence, sexual violence and stalking. WISE offers a confidential and free 24-hour crisis line, peer support groups and workshops, emergency shelter, safety planning and in-person advocacy to hospitals, police stations, court houses and other social service agencies. WISE works with youth, professionals, and the community to develop relevant and comprehensive prevention strategies. WISE is committed to engaging everyone in learning to recognize and eliminate the root causes of violence.
To join our team, all you have to do commit to raise at least $500.00 for WISE. We will cover the $95 registration fee and offer you some pretty amazing perks. In recognition of your hard work, WISE will provide you with the following:
Early registration for Team WISE begins November 18th
Promotional support for fundraising
Transportation of your belongings from the start to the finish line
An awesome technical t-shirt with the WISE logo to wear on race day
Private toilets for non-profit teams
A pre- and post-race gathering tent for runners and their friends and family
Race photographs
Healthy snacks and beverages
A special WISE bag full of goodies
And cheerful, grateful smiles from WISE staff to greet you at the finish line!
To request a spot on Team WISE, please email marketing@wiseuv.org or visit their website for additional information: www.wiseuv.org.