9 Days!
WHAT?
How's Your Training Going?
Our 30th Race is  a little over one week away. Can you believe it?
Before you leave home:
Download or Print our

RACE TIME page

and

Runner Handbook

(our WiFi and cell are pretty spotty!)
Take a photo of your ID for Bib Pick Up
Label your drop bag CLEARLY with your LAST NAME
Bring your photo ID and

CASH

for the Beer Tent
CARPOOL-Save GAS $$$, make new Friends-join our FB Carpool Group


RACE MORNING, SUNDAY , JUNE 5th

Runner Parking-be parked, IN YOUR SPOT
by 6:45 a.m.
to catch the last bus to the race start area
of our point to point race.
Runner Parking Location:
Vermont Antique Mall-look for signs and volunteers.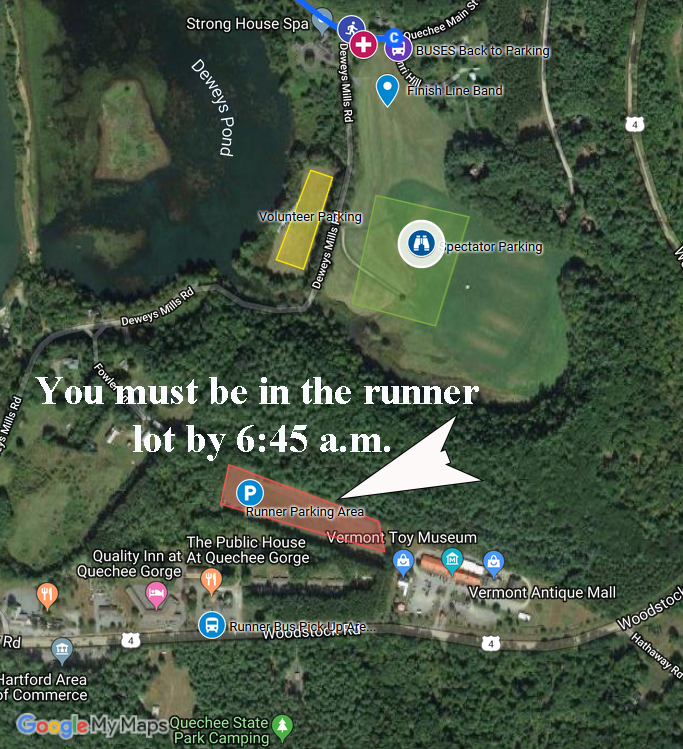 TAKE A PHONE PHOTO of where you parked-it will help you locate your car after the race.
Last week we talked about runner parking and the race Start Area-Suicide Six Ski Area, Pomfret VT.
Today we'll talk the racecourse to the Finish Line-Dewey's Polo Field in Quechee VT.
Gun Time is 8:15 a.m.

Jog Strollers Line up BEHIND the last runners
(DO NOT Pass until mile 5-for all our runner safety)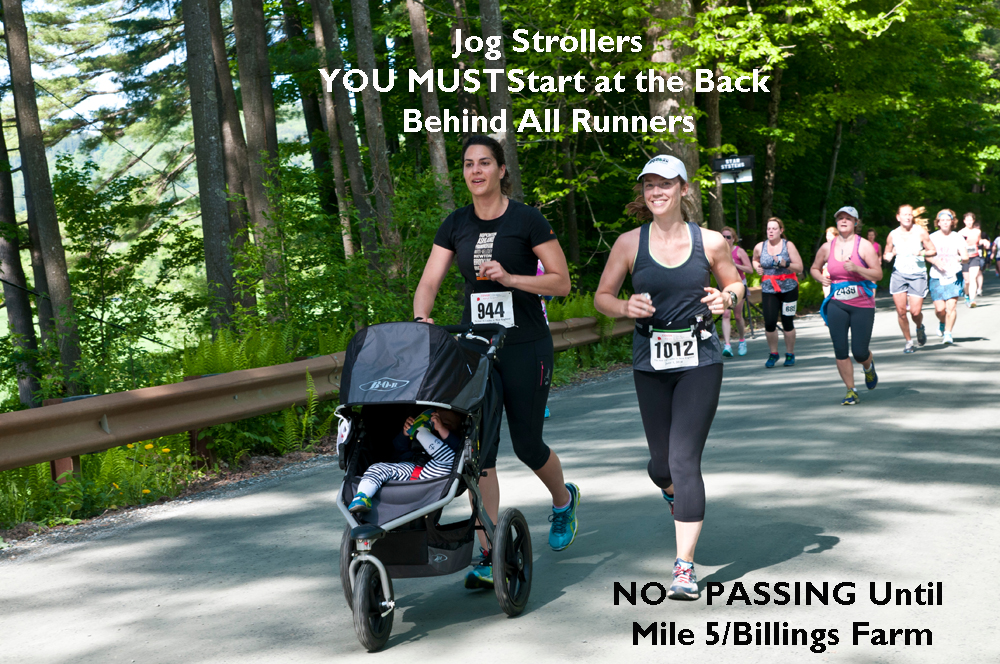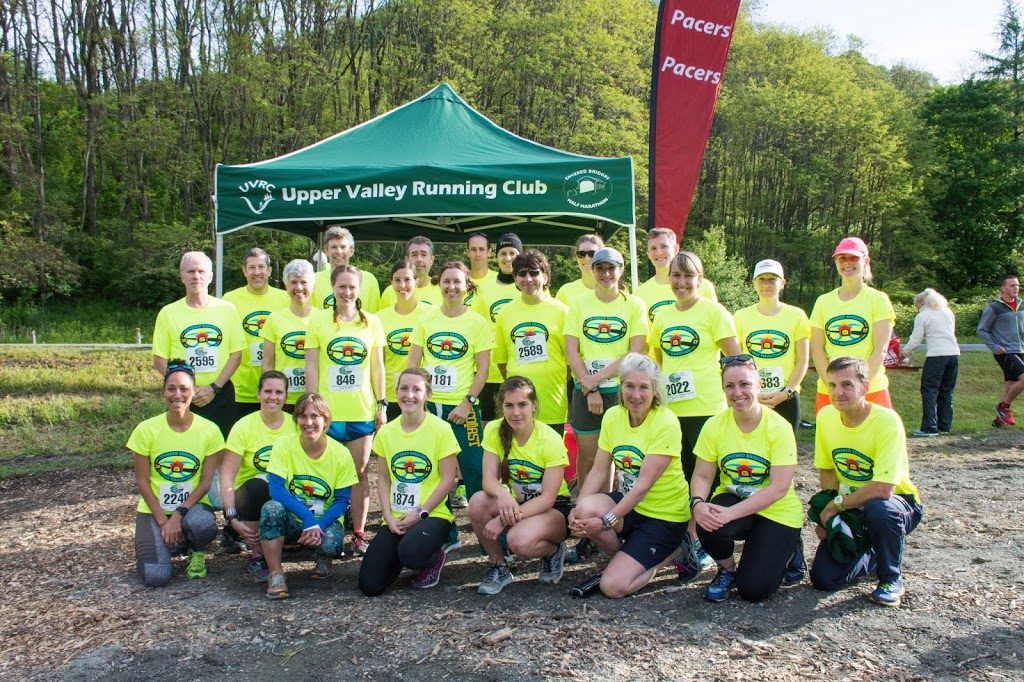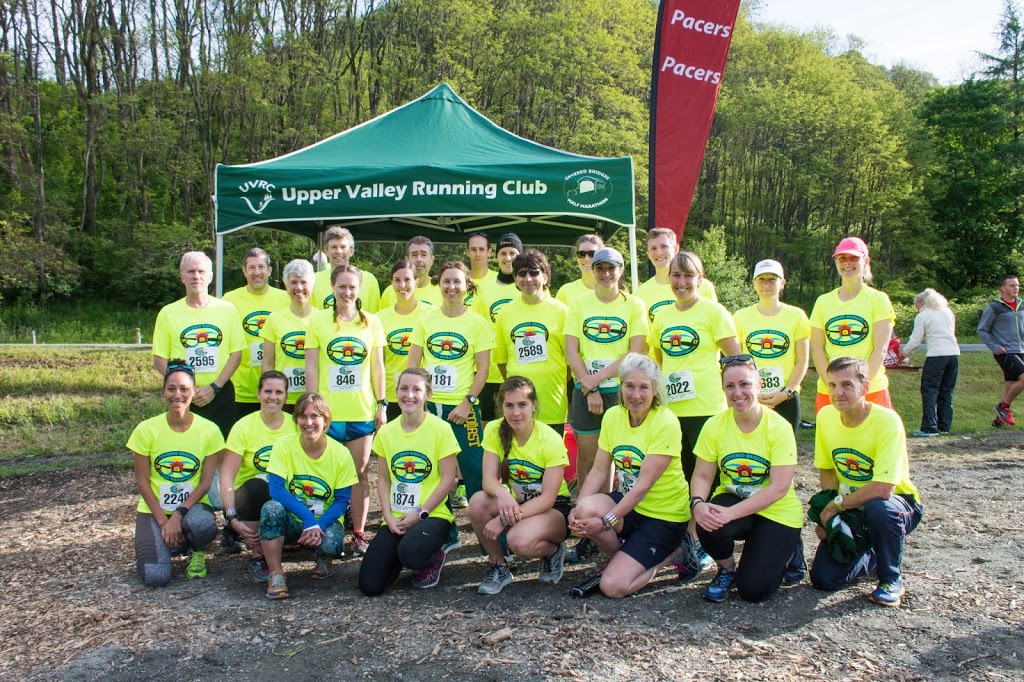 Upper Valley Running Club members volunteer to help you keep your pace throughout our race. Look for their signs and line up near them.
CBHM Race By the Mile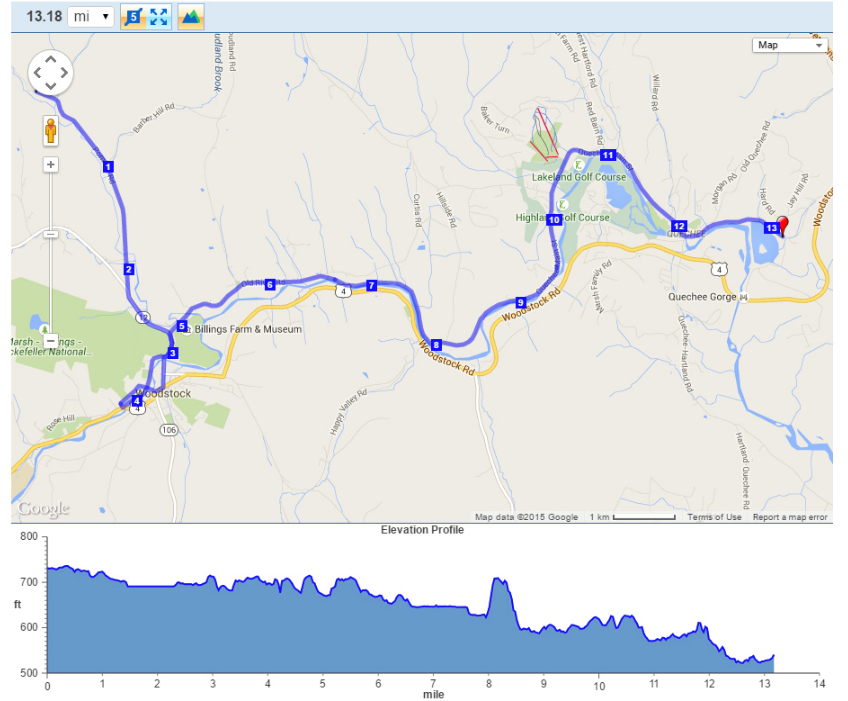 Water, Gatorade, "Bands on The Run"
If you can run with a water bottle (or hydration vest) please bring it along.
No need for headphones-we have live bands and solo artists all along our racecourse.
Mile 0 Race-Start 8:15 a.m.
DJ until about 8 a.m.
Lots of Port-o-lets.  Water, Bananas and Bagels

Mile 1.2


ArtistTree VT Band
Mile 1.5
Port-o-let (Prosper Valley School)
Mile 2
Water stop
Mile 3


Island Time Steel Drums (Rockefeller Mansion Driveway)
Mile 4


Waterstop (Mountain Ave)
Mile 4.2


Lyme Town Band (by Middle Bridge)
Mile 4.9


Island Time Steel Drums (Rockefeller Mansion Driveway)
Mile 5


Port-o-let (Billing Farm parking lot)
Mile 5.5


Edges of Europe (Cloudland RD)
Mile 6


Water stop, Gatorade (Old River RD and Rolling Ridge RD)
Rich Thomas (Old River RD and High Pastures RD)
Mile 7.1


Carlos Ocasio (Old River RD and Otis Hill RD)
Mile 8


Water stop, Gatorade (Old River RD and Upper River RD)
Port-o-let (near Taftsville Bridge)
Upper Valley Music Center Traditional Music Ensemble
Mile 9


Eric Dexter (Quechee Main Street and Ruddy Duck Lane)
Mile 10


Port-o-let (near the golf course)
Water stop, Gatorade (at the big red barn)
Jim Yeager and Friends (Quechee Club)
Mile 11


Upper Valley Waldorf School Band (Quechee Main Street and Quechee West Hartford RD)
Mile 12


Water stop, Gatorade (Quechee Main Street and Willard RD)
Beecharmers  (Quechee Library)
Mile 12.8


Fire House Six Dixieland Band Mile (Quechee Inn Marshland Farm)
Mile 13.1 Finish Line
The Gully Boys
CBHM Finish Line
Happy 30th Race to All our Runners Past and Present!
Cross the Finish Line, grab a water, your medal, your hat, a cookie and your ice cream!

Check out the rocking music of The Gully Boys
Grab an ice cold Harpoon Beer or Seltzer
(Bring your photo ID-we card everyone!)
Bring

CASH
Cash ONLY-no e-sales
(that pesky spotty WiFi and cell service strikes again!
Check out our awards ceremony-maybe you've won your age group?
Check out all the AWESOME Recovery Food in our HUGE FOOD Tent.
Pick up your Drop Bag and Take the FREE Bus back to the Runner Parking Lot.
(Check your phone for the photo of where you parked your car earlier!!)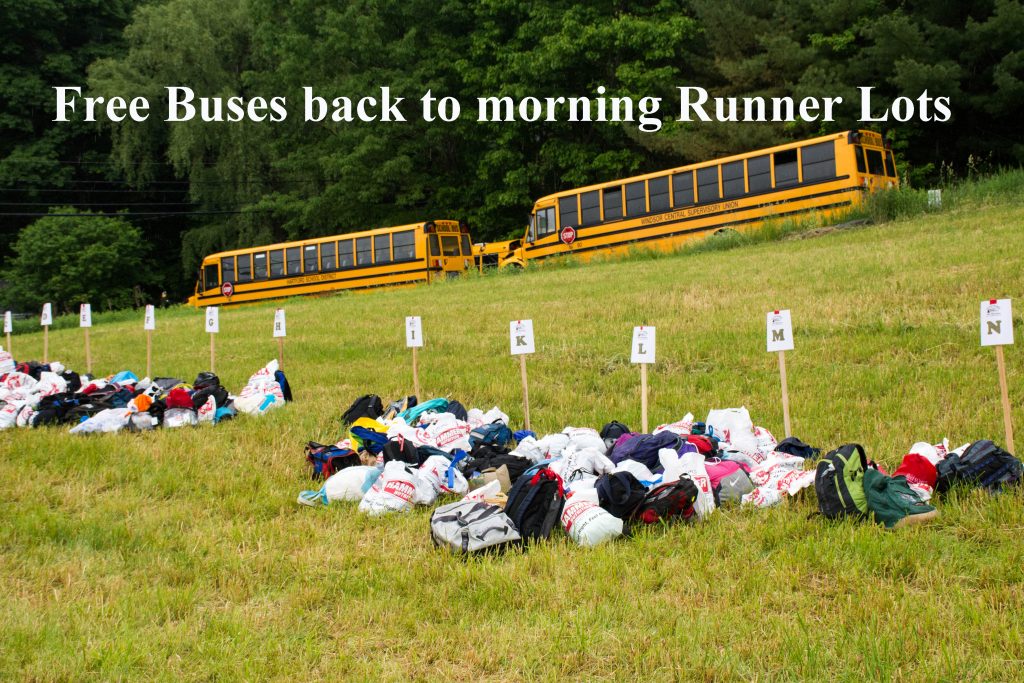 Head home and congratulate yourself on a race well done!
Mark your calendar for June 4, 2023!