We are just days away now.  We're moving our operations to the Finish Line area-spotty WiFi and cell service-please be patient if we don't respond right away to any questions/concerns you may have for us via email or social media (and you can always check our Race Info Page and our FAQs page too)
Are you ready to run?
If you cannot join us on June 5th please drop Mike S. our race director an email.
BEFORE YOU LEAVE HOME:
**Download or Print our RACE TIME page and Runner Handbook (our WiFi and cell are pretty spotty!)
**Take a photo of your PHOTO ID for Bib Pick Up
**Label your drop bag CLEARLY with your LAST NAME
**Bring your photo ID and CASH for the Beer Tent (first beer is FREE)
CARPOOL-Save GAS, make new Friends-join our FB Carpool Group
SATURDAY
If you still have questions-Mike and Nancy will be at our Info Booth on Saturday 1-5 PM in front of Norman Williams Public Library.
And at the Chamber Pasta Supper at Suicide Six Ski Area Saturday night
RACE MORNING REMINDERS, SUNDAY , JUNE 5th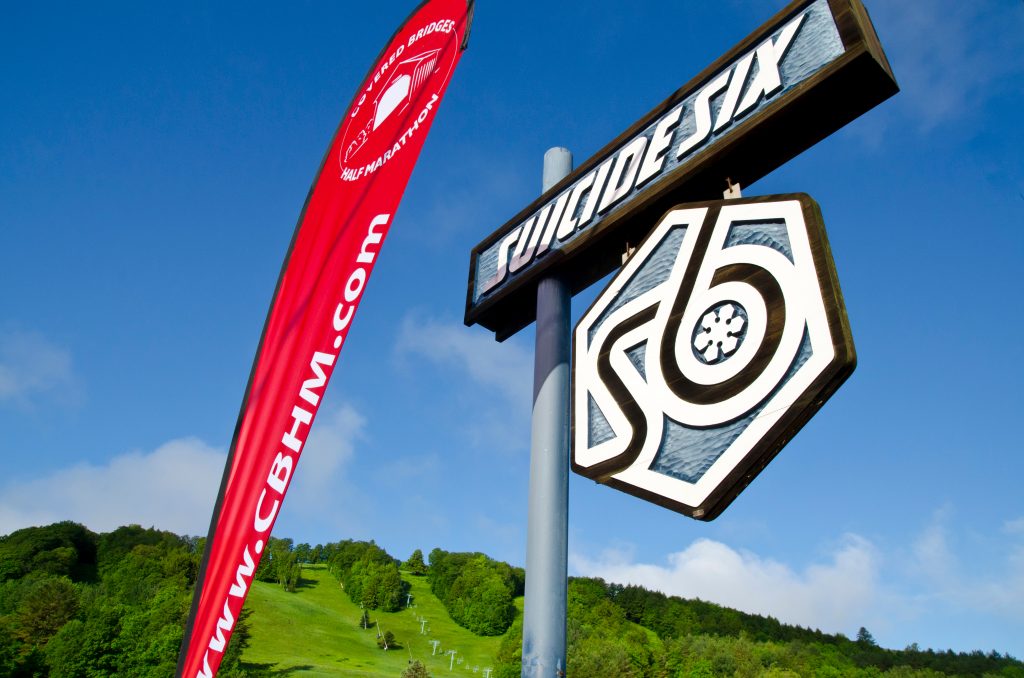 Runner Parking-be parked, IN YOUR SPOT by 6:45 a.m. hopefully-you'll get a spot on the last bus to the race start area of our point to point race.
Vermont Antique Mall-look for signs and volunteers.

TAKE A PHONE PHOTO of where you parked-it will help you locate your car after the race.
RUNNER PARKING IS NOT SPECTATOR PARKING
Runner Parking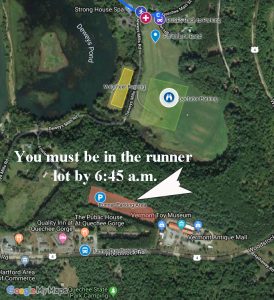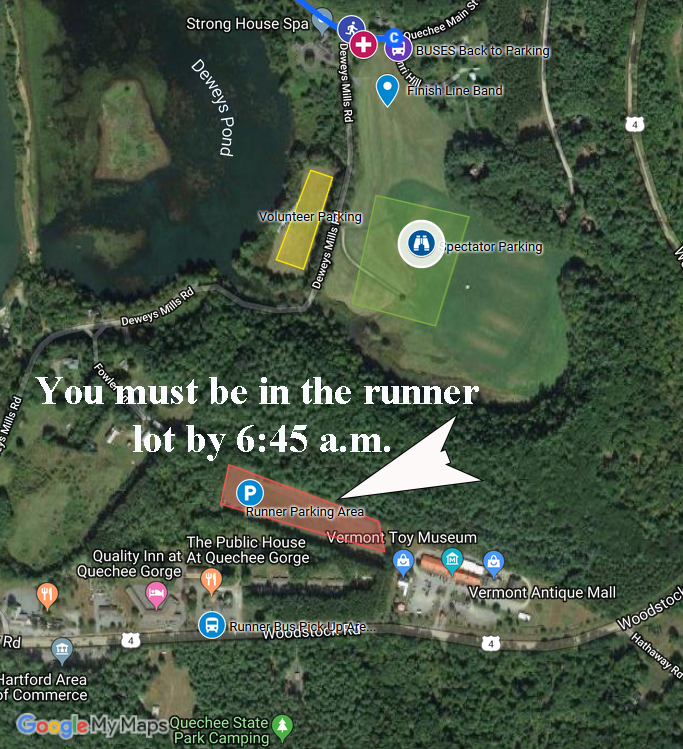 Spectator Parking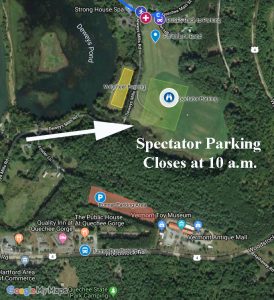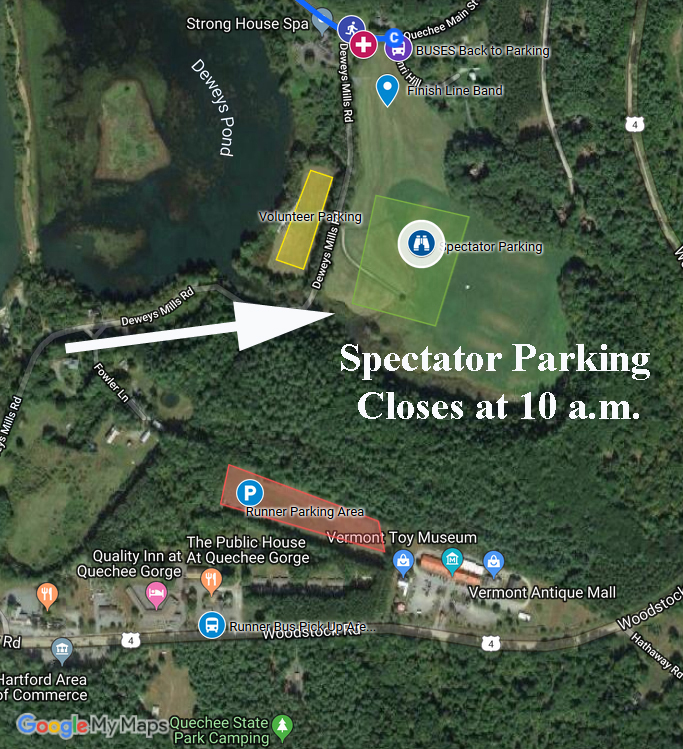 Get on one of our FREE Butler Buses to the Start Area in Pomfret, VT


Or get dropped off at the race Start Area-Suicide Six Ski Area 6-7:15 a.m.

Drivers MUST REMAIN in their vehicles-say your goodbyes and good lucks before entering the turn around.

Bib Pick Up opens at 6 am Sunday morning (not at the Info Booth on Saturday)

Bring your ID or phone photo of it to pick up YOUR bib.

Drop Off Your Drop Bag-Your LAST NAME is clearly marked on it.
And check that it's not TOO HEAVY.


Drop off Your Gently Used Sneakers



GO before You Go


Head to the Start Line, after your bathroom time, around 8 a.m.

Look for your PACE Time.
Our UV Running Club Volunteer Pacers will have signs.


Jog Strollers line up BEHIND ALL runners.
DO NOT PASS until Mile 5.


Gun Time at 8:15 a.m.-Enjoy our Race Course
Your Friends and Family can cheer you on at two (2) places in Woodstock and the Finish Line.

Finish Line Spectator Parking closes at 10 a.m.
Opens at 8 a.m. NO OVERNIGHT Parking-you will be towed.


Cross the Finish Line, grab a water, your medal, your hat, and a Covered Bridge cookie.



Check out our FOOD TENT for some recovery food.
Head to our Scoop Shop for YOUR FREE Lazy Cow Vermont ICE CREAM CONE!

Make Your way to the HARPOON BEER TENT hosted by Quechee Pizza Chef for your FREE BEER, Seltzer or Cider.
You MUST Show a VALID PHOTO ID-we card everyone!
First beer is free after that, CASH ONLY sales.

Pick up your Drop Bag and Take the FREE Bus back to the Runner Parking Lot


Alternatively, you could walk up Dewey Mills Road to Fowler Lane to the Runner Parking Lot [about a 7/10 of a mile walk up hill!]

THE FREE BUS is the safer way to get to the Runner Lot.


Head home and congratulate yourself on a race well done!

Mark your calendar for June 4, 2023!

Be sure to fill out our POST RACE SURVEY when you get home.