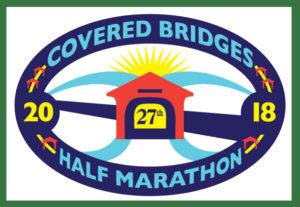 Everything You Need to Know About
Your CBHM Race Weekend
Have Questions-FAQs
Keep Current with our Race Blog
Where to Be on Saturday
Printable Race Weekend Info Sheet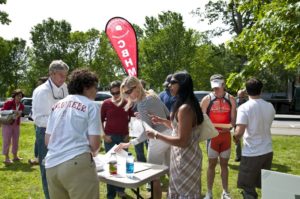 Saturday, June 2, 2018 Time: 1-5 p.m.
Race Course Map Click Here
Parking MAP
Race Information & Course Maps: Mike and Bill will be in front of the Woodstock Library by the green to answer any questions you may have. Stop by and say HI!! Look for the CBHM banners outside. Some of the UVRC Pacers plan to be on hand too to answer questions.
Race Bibs are NOT handed out at the information tent-ONLY at the Race Start at Suicide Six Ski Area Sunday morning beginning at 6 a.m.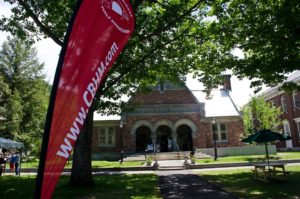 Chamber of Commerce Annual Pre-Race Pasta Dinner June 2.
Three seatings 5, or 7 p.m. 6 pm is Sold-Out
Purchase tickets online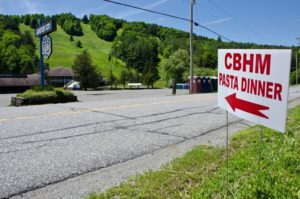 Dinner is prepared by the Woodstock Inn and local restaurants.
Cost is $20 per person, $10 children. No refunds after May 1, 2018.
It is a real community food event—with Woodstock's finest food establishments making sauces and donating many food products and local service volunteers from Change the World Kids and other local groups all pitching in to make the event a success.
Visa and Master Card Accepted.
Yoga
Flyway Yoga will be offering yoga classes during and after the pre-race pasta supper.
Stretch out, relax and have fun with yoga open to runners and guests of all levels.
Bring your own mat or towel and plan to be outside on the lawn. Please register below.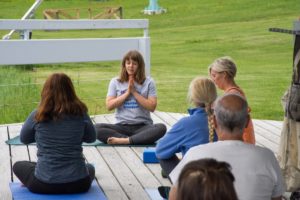 Yoga for runners 30-minute sessions 4:30, 5:15, 6:00
Yoga will be outside on the lawn. If the weather looks bad a "No-Go decision will be made at 10 AM on Saturday morning. If the event is cancelled, Flyway will communicate to participants.
Please register to save your spot:
https://www.flywayyoga.com/cbhm
No experience required.
Please bring your own mat or towel.
Traditional class designed to prepare your mind and body for the race. Poses will release tension in major running muscles groups and promote relaxation.
Get some sleep!