Are you ready?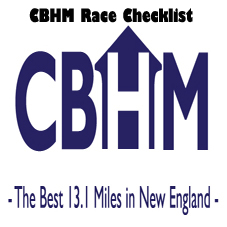 Here's a quick Race Checklist to help you prepare for the CBHM Race Weekend.
Before you leave home:
Race Weekend:
Saturday June 2
Sunday June 3
Get up EARLY
Get in touch with your CARPOOL
Make sure your SPECTATORS know where to be and at what times
Grab your LAST NAME LABELED Waterproof DROP BAG
Make your way to Quechee Gorge Village-Race Parking OPENS at 5:45 a.m.
Buses For Runners ONLY From Quechee Gorge Village lot to the race Start
Don't plan to be ON THE LAST BUS!
Or get dropped off at Suicide Six Ski Area BEFORE 7:15 a.m. The road WILL BE CLOSED soon after!
Pick up your race Bib
Fill out your Emergency Contact Info and Pin on Your Bib
Drop off your LAST NAME LABELLED Waterproof DROP Bag
Meet Your Pacer and line up for Race start at 8:15 a.m.
Race gun at 8:15 a.m. (Thank you to Bill B. for his years with CBHM!)

TURN ON YOUR PHONE/RACEJOY app so folks can track you
Run your BEST race
Pick up your race medal and t-shirt
Have an ice cream, beer, or do some yoga stretches
Grab your DROP BAG
Make your way home, knowing you've just run THE BEST 13.1 miles in New England!