CBHM GOES VIRTUAL FOR 2021 AND YOU ARE INVITED!
In an effort to minimize the spread of COVID-19 and prioritize the health and safety of our community and our participants, CBHM Inc. race directors and race committee have decided to move forward with a Virtual Half Marathon for our 29th event.
Our race planning committee and leadership team explored a multitude of scenarios that led us to conclude the event could not be executed on our racecourse from Pomfret, Vermont to Quechee, Vermont during the pandemic with the enthusiasm and atmosphere our runners have come to expect. More importantly, we simply cannot offer a traditional race in a manner where the safety and security of our runners, volunteers, spectators, emergency personnel and our race community is optimally achieved.
Your continued support and participation in 2021 is very important to us. Each year part of your race registration is given back to our host communities. We donate over $50,000 back to our local youth groups, non-profits, and recreation departments. These are the volunteers who take care of you during our race!
How Our Virtual Race Works
Rally a team of friends and register to run our virtual 1/2 marathon in your own community. Run or walk the distance on a course of your choosing, and then simply report your time using RACE JOY or other timing method to be added to our national results leaderboard. (You don't even have to record your time if you prefer not to!)
Complete your virtual run (or walk or even stroll) between Sunday, June 6th and Sunday June 13, 2021.
We will miss seeing you in person, so please tag #cbhm2021 on social, so we can cheer you on and congratulate you on a great race! 
WHAT YOU RECEIVE WITH YOUR REGISTRATION
Training Tips to get you Running
Customized Playlist
Commemorative Race Shirt 
Custom Finisher Medal
(You will be charged for shipping of t-shirt and medal at check out-sorry we do not allow in person pick-up)
Virtual Bib (we recommend printing on Tyvek paper (https://www.staples.com/JAM-Paper-8-1-2-x-11-14-lb-Tyvek-Paper-White-50-Pack-2179214491/product_2329651)
Virtual Finisher Certificate
Registration Confirmation
Each person who registers for CBHM Virtual 2021 will receive a confirmation email (if the email address is valid). The confirmation email will contain a copy of the registrant's personalized virtual bib and RaceJoy instructions.
If you need a copy of the confirmation email, please following the steps below:
Sign in to RunSignUp
Go to your Profile
Click My Registered Races
Click View/Edit next to the registration that you would like to resend the confirmation email for
Click the Resend Confirmation Email link
Check the email listed in your Profile for your registration confirmation
Event Refund-We do not offer refunds for CBHM races. 
Race Entry Regulations
Entry fees are non-transferable and non-refundable.
You must be at least 14 years old to run the half marathon.
You must be in good health and physically prepared to race.
You must sign our race waiver during registration. 
$0
Registration fee (rolled over from 2020 race)
Opens February 28, 2021 at 7:00am EST

Deferred runners will get FREE shipping if they register before March 7 at 11:59 p.m. EST
Deferred runner may request a refund of $75  from the 2020 rollover.
If deferred runners DO NOT request a refund and RUN Virtually with us-they will be placed on our Loyalty List (priority, early registration) for the June 5, 2022 race.
$75
Registration
Opens March 8, 2021 at 7:00am EST

All registrations close on June 1, 2021 at 11:59 p.m. ET
We are also offering a Referral Rewards Program so you can run with Family and Friends.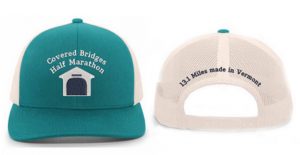 Get 5 friends to sign up using your unique referral link and you will automatically receive a refund of $20.00 and a Custom CBHM Supporter Hat.

Get 10 friends and you get the $20, THE HAT and get on our Loyalty List for early access to registration for the 2022 race.
Get 20 friends and you get the $20, THE HAT and complimentary race registration for the 2022 race (not refundable or transferable)